What Would You Do with Sugru?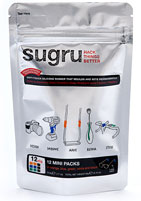 Forget about trying to get any small thing repaired anymore. If the plastic door handle on your toaster oven breaks, you're pretty much out of luck. Same thing goes for the tool with a cracked handle or a thousand other household, office, or outdoor items that are nearly impossible to get professionally repaired. Neighborhood fix-it shops have all but disappeared and small replacement parts (when you can get them) are often nearly as expensive as the entire appliance. No wonder people just toss and rebuy these days.

But many repairs are quick and easy if you have the right tools and materials on hand. Enter Sugru®. Sugru is a self-curing, hand-moldable silicone "clay" that bonds to most materials. It air-hardens to a tough but flexible state in 30 minutes, and fully cures to a water-resistant, hot and cold-proof, permanent form in 24 hours. Sugru can be formed into a grip, handle, repair patch, electrical insulator, replacement part, or just about anything you can imagine or create.
However, maybe you're not a "fix-it" type of person. That's OK, because Sugru has a much more interesting use: it enables you to "hack" (improve) the many functioning things in your home or workspace that could be more comfortable or work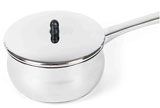 better with a bit of modification. For example, you may have a favorite cooking pot whose handle or lid knob becomes too hot in use. A thin layer of Sugru will permanently solve that problem. Once cured, it'll withstand temperatures up to 350°F and remain dishwasher safe (if it can withstand the conditions inside a dishwasher, it'll survive just about anything). Since Sugru comes in a variety pack of various colors, you can color-code your handles and lids so there will never be any confusion about which goes with which when you're poking around under the cabinet. (Sugru also comes in packs with just black and white, which are perfect for repairing/enhancing electronics, iPhones, laptops, etc.).
As another example, if holding a pen gives you writing cramps, a bit of Sugru will provide a customized, ergonomic fix (and keep your pen from rolling off the desk too). Sugru will firmly adhere to many materials: metals, wood, rubber, glass, ceramics, and most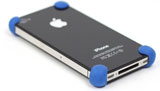 plastics. Since Sugru is a silicone rubber compound, it retains a soft, slightly grippy texture when cured. It also works great to mod your eyeglass or sunglass earpieces to fit more comfortably.
Sugru's unique properties and applications have got people in the hacker/maker community really excited about its potential to create new artistic and/or functional items.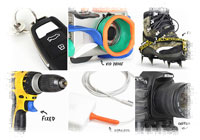 I wrote about Maker culture in my first "Report from the Maker Faire" article. Since then, even more people have become increasingly interested in customizing and enhancing their personal lives and work environments. Sugru is perfect for that. It's been written up in Time Magazine (as one of the 50 best inventions of 2010), Wired, Fast Company, and recently, in many other periodicals and blogs.
Not only is this new substance itself interesting, so is the story of how it came to market.
Sugru was the brainchild of Jane Ní Dhulchaointigh, an Irish woman studying for her Masters of Arts in Product Design at the Royal College of Art in London. The rough concept came to her in 2003 when she mixed sawdust into some smelly silicone caulk and fabricated a crude knife handle and a replacement sink stopper for her kitchen. Developing this as-yet-unnamed substance would become her Final Year project, during which she refined the prototype material with color pigments and finer binding powders. When she exhibited her final project in the spring of 2005, everyone kept asking, "Where can I get some of this stuff?"
Encouraged by this early interest, Jane began to commercialize her invention. She assembled a team of specialist advisors, including two materials scientists and a patent attorney. She also joined forces with a business partner and applied for development grant money. They were awarded £35,000 (about $60,000 at the time) by Nesta, the UK's renowned innovation think tank. Jane set up a small lab and commenced two years of formulation work and testing, simultaneously applying for patents and courting potential investors. Jane and her business partner Roger Ashby also approached major glue manufacturers to interest them in a joint venture and explored some industrial applications for their still-without-a-name product. By 2008, its core mechanical properties were well developed but the adhesive qualities were still deficient However, as it turned out, getting it stickier was one of the easier problems to solve; the business part was a lot trickier.
They failed to make much headway with any of the big companies, but lacking their own resources, felt a JV partnership, licensing deal, or buyout was the only feasible way to bring the product to market. However, with the encouragement of friends and advisors, Jane and Roger eventually decided to create their own brand and market it themselves.
But first it needed a name! (After five years it still didn't have one...) Whilst riding her bicycle one June day in 2008, Sugru popped into Jane's head (It's derived from the Irish Gaelic word for play: "súgradh").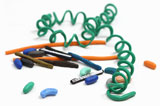 By winter of 2009, the global recession had pinched off most financing sources and the partners desperately needed additional funds to continue. Jane and Roger found it tough sledding indeed, pitching nearly 100 potential investors before they got to a yes from one of them. An angel investor put up just enough money to enable them to launch Sugru on a limited scale. They converted their lab into a tiny factory, built mixing and packaging equipment themselves, and enlisted friends and family to come help get the first batch produced. At the same time, they created the branding, packaging design, and website.
It took a month of night and day labor to make the first 1,000 packages of product. But initial sales were slow. Then, in early December 2009, Jane sent a sample pack to the Daily Telegraph's technology blog , and that changed EVERYTHING. The blogger, Harry Wallop, gave Sugru a 10/10 review. Then Wired U.K. and the popular blog Boing Boing picked up on the story with a link back to the Sugru website, and things went crazy. They sold out of the 1,000 packs in just six hours. Right away, they put up another 2,000 packs for preorder only, thinking it would take two months to produce that many. They sold them all in 10 hours. The demand was there -- but now, how could they quickly ramp up production? (Finally, a nice kind of problem to have!)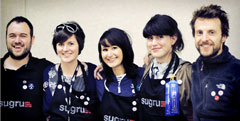 Within six months, they had all the investor money needed to build a proper factory and hire key personnel. While all this was happening, Jane and Roger kept going out to meet their customers and collect feedback. The Maker Faires in Newcastle England and in San Francisco were prime venues for this activity.
By July 2010, they had a warehouse stocked with product, an updated e-commerce website, and were ready to relaunch sales. In the first week, they shipped product to 40 countries and got great feedback from all over the world. By April of 2011, Sugru had been sold in over 60 countries and on all seven continents (the final one, Antarctica, at a camp 600 miles from the South Pole).
By June of this year, the online community of Sugru users numbered over 50,000, with fully half in the United States. So, in August, the company established a U.S. drop ship operation, to speed order delivery. Current efforts revolve around growing the community, fostering social interaction and idea-sharing among the user base, and establishing a retail and reseller channel in both the U.K. and the States.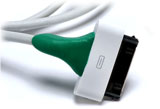 Great story, no? [Soapbox mode = on] I personally find these entrepreneurial success stories very inspiring and motivational. More broadly, they give me renewed hope that our still-ailing economy will be rescued by men and women of vision, who put it all on the line, take big risks, and suffer prolonged hardships, yet stick it out and ultimately prevail. And in doing so, create new jobs, new wealth, and enduring value. [Soapbox mode = off].

If you'd like go get some Sugru for yourself, here's the order link. There's a color pack and one with just black and white. (Please note: I don't get compensated in any way by the recommendations I make in this letter. Jane & Company have no idea I'm even writing it.)

Here are some tips for using Sugru
Order only enough to use in the next 6 months (that's its shelf life - but you can extend it to a year if you keep the foil packs in your refrigerator).

For best adhesion, clean surfaces with some alcohol or a prep pad first.

Colors can be mixed together in various proportions to match many surfaces/materials (or contrast from them if that's your preference).

Sugru initially has the consistency of Play-Doh® but skins and begins to harden within 30 minutes.

You can get a nice, smooth finish by wetting your fingers with a bit of soapy water.

If you have a plug or cable that's failing mechanically but still works electrically, a coating of Sugru is the perfect fix. (Otherwise, get out your soldering iron first.)

Black Sugru looks professional on most electronic devices (for phone bumpers as an example), while white looks "factory" on many Apple devices and computers.

Sugru remains flexible when fully cured, and adheres really well to fabrics, leather, canvas, and other similar materials. It withstands salt water so is great for repairing or waterproofing outdoor gear.

If you goof up, cut off most of the Sugru with a sharp knife, then rub off the remainder with your thumb.

Keep a foil pack of Sugru in your office desk. Sugru makes a great stress reliever and you can fabricate some neat "executive toys" with it!
What's next? Jane and Roger's company, named FormFormForm, "a small but perfectly formed team of materials scientists, inventors, and business/production people" is based in London and has big plans for the future. They plan to create new materials based on Formerol®, their patented formable silicone technology, with thousands of applications in the medical, sport, tool, electronics, telecommunications and DIY industries.