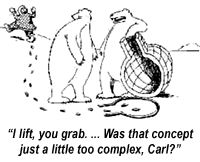 How Does This Grab Ya?
This month I'm going to reveal one of my most powerful marketing secret weapons to you. It's a strategy that's been going strong for over a decade and shows no signs of weakening. This strategy can be used by any businessperson, fund-raiser, salesperson, medical professional, artist, etc., or anyone else who needs to reach out and establish new relationships.

You may be surprised to learn that my secret is direct mail. That's right, postal mail. A letter. Not email, not cold calling, not web, and not an advertisement.. but not ordinary junk mail either. That's where my "secret" comes in.

Unfortunately, many people hear the words marketing or direct mail and jump to the (incorrect) conclusion those things are best handled by "professionals." Not true. At least not for my grabber strategy. I'm not talking about plastering the country with junk mail. I'm talking about coming up with a list of the 100 new people or companies you'd most like to do business with, and engaging them in a "conversation" about what your product or service can do for them. You don't need to be a marketing person to do that, I can assure you. Indeed, this strategy is ideal for the attorney, doctor, therapist, accountant, consulting engineer, business-to-business salesperson, not-for-profit development professional. In short, anyone who doesn't have a lot of time (or a Fortune 500 budget) but needs to ensure a steady flow of leads, deal opportunities, potential donors, new patients, etc.

In past months, I've written about the role of typography, page layout, and document aesthetics in business communication. Those things are all very important. But all the effort of writing a brilliant letter, setting it in the perfect typeface, and creating a polished, professional layout can be entirely wasted if you fail to do one crucial thing.

I'm going to reveal all the details in the accompanying video. C'mon. Don't wus out. Click it now.
---
June Video
The Secret of Grabbers
(Please click once and wait for the video to start streaming on your computer)
Video Problems, Questions?
If you need some help with technical problems, please click here.