Maker Faire NYC 2013

Click to enlarge this and other images in article
Maker Faire sure has come a long way. It's evolved from an entirely hand-crafted garage 'n basement workshop show-and-tell to a much more mainstream event with a larger array of ready-for-market products. I recently attended the fourth annual Faire and was struck by the many changes I've witnessed since NYC Faire #1. Many more recognizable brands and big name sponsors were present this time. However, as so often happens at large trade events, the really cool niche products and interesting people are found along the outer perimeter. I'll share with you now what I discovered along the edges...
Previous Maker Faire Reports

2012
If you've read any of my three previous Maker Faire reports, you may have gotten the impression that the Faire is exclusively tech-oriented. That's actually never been the case. Large swaths are occupied by the booths of soft goods crafters, jewelry-makers, and other low-tech folk.
Step #1
Pick a prize
to embed in bar



Step #2
Prepare soap
Mix in color and fragrance

Step #3
Pour in bar mold
and let cool
First stop along my perimeter walk brought me to a soap-making tent, where for a small fee, I created a bar of vanilla-scented, organic vegan soap for my wife Deborah (yes, it has a tiny cat prize embedded inside). Big hit! Especially when I told her it was "made with extra love!"
Continuing on, I had great conversations with folks demonstrating their various inventions. These included:
| | | |
| --- | --- | --- |
| | | |
| TeraBatt, an electric generator bolt-on that makes it run much more efficiently, similar to the technology employed in a hybrid automobile | Engineers from Manhattan College were loaning out portable air pollution sensors and wirelessly mapping out real-time levels of airborne particulate matter throughout the grounds of the New York Hall of Science | Greatest levels were detected near the food tents due to cooking/smoke |
Students from other colleges were showing off their unmanned autonomous (self-sailing) sailboat and others demonstrating their self-driving wheeled vehicles.
Olin College's Robotic Sailing Team displaying their latest boat, "Blackbody Radiation," a fully autonomous sailing vessel built by a team of students

FIRST Team 353

Pobots

shows off their self-driving vehicle

Stuyvesant High School's Stuypulse robotics team confers before a demonstration
But the big, big story at Maker Faire continues to revolve around 3D printing and other rapid prototyping machines. From a single 3D printing tent in 2010, I've seen this tech expand each year to the point where fully one-third of the Faire is either demoing the machines or using them to create other devices and products. Innovation abounds, as can be seen at FormLabs with their stereolithography printers. Unlike most other current desktop 3D printers which melt ABS or PLA plastic and extrude it through a tiny nozzle on a moving printhead, stereolithography uses lasers shining into a bath of liquid polymer to harden the plastic. This enables the creation of very complex shapes with fine detailing. I was impressed. Want one!
FormLabs desktop stereolithography printer.
The amber cover protects eyes from the internal lasers


Stereolithographic 3D printing technology enables creation of finely detailed models
The other great laser-driven machine I want is an Epilog engraver. The lasers in an Epilog printer are powerful enough to etch complex designs and images in wood, plastic, and metal.
| | |
| --- | --- |
| | |
| The Zing is Epilog's entry-level laser engraver | Epilog offered to engrave custom designs on your phone for free while you wait at Maker Faire |
But the melt-and-extrude guys were out in force too, with many new printer designs, all looking for their spot in the attribute triangle: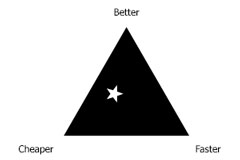 Some are focused on improving the printed piece, making it smoother, larger, or with more colors. Others are bringing out printers with equivalent quality to the existing market leaders but at a lower price point. And, recognizing that 3D printing is a time-consuming process, some newcomers are striving to develop faster printers.
| | | |
| --- | --- | --- |
| | | |
| The T Max 2.0 got an Editor's Choice at Maker Faire NYC 2013 | T Max comes in a kit for $2,199. Parts for it are 3D printed so you can customize colors and nozzle size | The gMax has a big 16"x16"x9" build volume and is on Kickstarter as of this writing ($1,295 gets you a kit) |





The BukoBot from Deezmaker is built on the Buko open source framework and is self-replicating

The

Deltaprintr

has an open frame and uses fishing line instead of belts to control its printhead
There were also several companies present that will take your files and print very high quality parts as a service. In addition to market leader Shapeways, I was particularly impressed by Kraftwurx and Sculpteo.
An incredible array of 3D printed parts and designs were on display

The service bureau

Kraftwurx

was very impressive with 124 production facilities worldwide

Kraftwurx offers 83 different materials including precious metals and fire glazed ceramics
But the four-year old granddaddy, MakerBot (with 25% market share) continues to grow and innovate too. After being acquired by Stratasys for $403 million in June of this year, the company just released the MakerBot Digitizer, a $1,400 device that can scan an object in three dimensions and create an editable printer file automatically. Expect to see this scan-modify-print technology proliferate rapidly in the near future. Very powerful and enabling.
| | |
| --- | --- |
| | |
| Huge buzz for the MakerBot Digitizer | Lasers automatically scan any object up to 8 inches tall and 8 inches in diameter |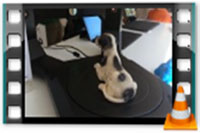 Objects placed on the turntable are digitized in 3 dimensions as it rotates

Continuing along, I watched the electric go-kart races, listened to a band-in-a-box organ, and stopped by the Museum of Interesting Things before heading inside the Hall of Science to check out the hundreds of maker exhibits to be found there.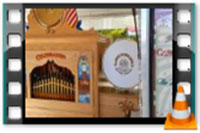 Click to listen to the Celebration Band Organ
| | |
| --- | --- |
| | |
| The iconic New York Hall of Science built for the 1964 World's Fair in Flushing Meadows | Many intruiging tech and art installations were found in the cavernous lower level |
I sat in on a panel presentation with front-line medical professionals discussing how they entered the Maker Movement by creating new devices for patient therapy and comfort. There was another interesting presentation by an admissions officer from MIT entitled "When Makers Apply to College." The graphical note-taking geniuses from ImageThink were on hand to capture the essence of the presentations again this year. I just love their work.
| | |
| --- | --- |
| | |
| Nurses as Makers | When Makers Apply to College |
In a huge darkened indoor space, could be found dozens of curious glowing and blinking exhibits. Particularly intriguing was the Hypnocube display. These are transparent acrylic cubes containing 3D arrays of LEDs whose illumination patterns are precisely (and hypnotically) controlled by a low-cost, low-power Arduino microprocessor.
Going back outside, I came across a bunch of farmer-makers with some nifty human-powered but labor-saving machines, like this two-person root washer (one cycles to spin the drum and the second pedals to pump the wash water. Another table was manned by a delightful little girl whose father invented a room temperature solid material that can be liquefied in an ordinary microwave oven and used to make casting molds for plaster, concrete, plastics, and even chocolate.
| | |
| --- | --- |
| | |
| | |
| | |
| --- | --- |
| | |
| Composi-Mold is a family affair. Their table was staffed by the inventor's wife and daughter. | H2Okinetic technology from Delta Faucet saves water while still providing an invigorating shower experience |
As shown in the above video clip, even major manufacturers like Delta Faucet were in attendance, with engineers on hand to demo their advanced technology, like touch-controlled taps. Shopbot was out in force, demoing their smart woodworking tools. Noisy but fun to watch. And, because I'm attracted to dangerous things, I was drawn to the Orbital Rendersphere spinning at 450 RPM; particularly when I saw the sign sternly warning, "Do Not Cross Line - Spinning Sphere Can Cut Off Limbs."
| | |
| --- | --- |
| | |
| Multiaxis ShopBot in action | |
There was quite a bit of crowd-pleasing entertainment, including performances by the exceptionally talented students of the Circus Warehouse school, which was attended by a large audience of appreciative Maker-watchers.
| | |
| --- | --- |
| | |
| | Many performaces took place high in the air with no safety net |
Sadly, the maniacs from Madagascar Institute were not in attendance this year. Their very dangerous home-brew carnival rides and whacked-out performance art exhibits were nowhere to be found. Disappointed! But the disappearance of Madagascar Institute was, to me, an indicator of the shift of Maker Faire from the edge towards the center of commercial application. And that's a positive thing overall.