Keeping Your Expensive Stuff Dry and Safe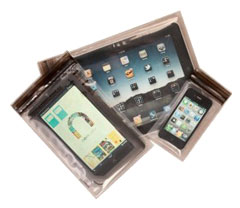 Would you pay $7.89 for a Ziploc®-type plastic bag? Hey, you might if it was a very special bag: one you'd trust to store your $600+ smartphone in when going to the beach or for a dip in the tub. While you might be semi-confident that a regular zip lock freezer bag will probably keep its contents dry and somewhat protected from the elements, few of us would rest easy relying upon one to protect a valuable camera, cell phone, or tablet computer. No, for keeping expensive electronics and other valuables shielded from water, dust, sand, or high humidity, you'll want something a heck of a lot more heavy-duty than a two-mil sandwich bag (a mil is 1/1000th of an inch in thickness).
Enter the LOKSAK®. Created by a scuba diver, these "element proof" bags are tested to keep their contents dry even when submerged in 60 meters (200 feet) of water for two weeks. They're used to store a wide variety of things that would be degraded by exposure to liquids or gasses or particulates: documents, clothing, food, medications, guns, film, car keys, passports, and much more.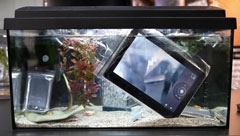 LOKSAKs are used by scuba divers and snorkelers, boaters and kayakers, skiers and boarders, cyclists and runners, and sports enthusiasts of all kinds. There are numerous professional and institutional users as well: military forces worldwide, FBI Hazmat teams (for storage and transport of hazardous materials), rescue squads, medical teams, and many others.
LOKSAKs come in four versions, each having special characteristics and applications:
| | |
| --- | --- |
| aLOKSAK | The original version, first developed in 1998, is in widest use. Constructed from 6-mil polyethylene with a highly-engineered zip closure, this transparent bag comes in a broad size range from 3"x6" to 32"x16". (The zip closure is along the first dimension and interior sizes are smaller than the listed exterior dimensions by about 3/4" on the zip side and 1/4" on the other. aLOKSAKs are medical-grade, FDA & NSA approved for food storage, and contain no BPA (bisphenol A). They're available with custom imprinting (logos, etc.) for use as advertising specialties. (I, for one, would certainly find one of these more useful than another imprinted coffee mug.) Touch-screen devices such as smartphones and tables can be operated through the bag and audio is not muffled. |
| OPSAK | In 2006, LOKSAK introduced the OPSAK, with an oxygen barrier to prevent the transmission of odors. They instantly became popular with campers in bear country. Of course, you don't want a bruin coming into camp looking to share your food, and the usual approach is to use a bear canister and/or suspend your vittles high up in a tree, but this can be overkill. OPSAKs are useful for augmenting these measures, or on their own to prevent squirrels, raccoons, marmots, and other scavengers from sniffing out your edibles. They're also in use by Hazmat teams and medical organizations for storing and transporting toxic materials. For a more benign application, you can cook and rehydrate food in the pouches. You can pour boiling water into one for a quick meal on the go. |
| SHIELDSAK | Since 2006, all U.S. passports have contained a radio frequency identification (RFID) chip that immigration officials scan at border crossings. The chip holds all your personal information and can speed your passage (or detainment). Unfortunately, bad guys can also quickly scan your passport with a small handheld scanner and potentially steal your identity using that embedded info. Likewise, some credit cards now have embedded RFID chips. That's why the SHIELDSAK was created. A consumer version of RF-blocking pouches developed for the U.S. Military, the SHIELDSAK can also hold your cell phone or tablet and prevent it from being scanned or located. A phone placed inside will not ring or transmit data of any kind. |
| SPLASHSAK | While the LOCSAK is great for protecting gear from harsh environmental conditions, by itself, the bag can sustain a puncture wound that will severely compromise its protective qualities. Also, there's no way to firmly attach one to your body or equipment when engaging in adventure sports (as an example). SPLASHSAKs were developed to address these shortcomings. They are zip pouches made of abrasion-resistant 420 denier nylon (1000 denier for the military versions) and contain two aLOKSAKs or OPSAKs. There are numerous variations with neck straps, armbands, waist straps, belt loops, or snap hooks. A popular model is transparent to hold folded or charts. |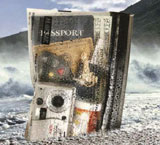 Other Storage Options
aLOKSAK and its cousins are your go-to bags when there's a need to protect expensive items from harsh environments, but there are cheaper options for less critical applications.
A trusted supplier for a huge variety and sizes of reclosable polybags is Uline. They're available in 2 mil, 4 mil, 6 mil, and even 8 mil for storing sharp objects that would puncture a lesser bag. You can get them with writing blocks, hang holes, slider zips, label pouches, and more.
For most sizes, the minimum order quantity is 1,000. Don't let this deter you. I guarantee you'll find many, many uses for these bags. I've found them to be an essential part of my home and work organization system. Grouping, labeling, and storing all kinds of loose items in the office, shop, kitchen, craft room, basement, and garage is key to eliminating "micro clutter" in your life. I find this approach more flexible and cost-efficient than other "hard" storage options such as divided storage boxes (or complimentary to them). If you want a getting started recommendation, I can suggest the following order:
| | | |
| --- | --- | --- |
| Size | Model | Cost per 1000 |
| 2" x 3" 4-mil | | $37 |
| 3" x 5" 4-mil | | $35 |
| 4" x 6" 4-mil | | $41 |
| 6" x 9" 4-mil | | $67 |
| 9" x 12" 4-mil | | $97 |
Trust me, you will find lots of good uses for these. Many won't become apparent until you have them "in stock" and ready for deployment. For example, the 9x12's are great for protecting important letter-size papers. For more application ideas, check this Google Image Search link (click images tab). You may be tempted to drop down to the 2-mil bags to save money but I recommend staying with the 4-mil, especially in the mid size group. The 6-mil and 8-mil bags are really tough but considerably more expensive and overkill for most applications.