Animoto!

Are you boring everybody to death with your blah photographs and yawn-inducing videos? I've got the cure. How would you like to take those same photos and clips and easily create a near-Hollywood-quality "movie trailer" that'll really grab people's attention and hold it? If so, I'll show you how. For free. With no special skills required. All you need is Animoto.
Simply upload your photos and/or video clips to the Animoto web site. Doesn't matter where your media resides: in your computer, iPhone, Flicker account, Facebook, YouTube, or elsewhere; Animoto can pull it in. You can also upload some music or choose from a big selection on the site. After that, it can be as simple as clicking a single button. The program will grind away for several minutes and then present you with a jaw-dropping multi-media production.
The magic all happens behind the scenes. Animoto's patent-pending algorithms analyze your images and figure out the best way to set them in motion and transition from one to the next. Simultaneously, your music is analyzed (not just beats but also the music's structure, genre, energy, build, and rhythm) to determine the styles and exact points where transitions should occur. Then it puts it all together using a variety of creative templates and gives you a variety of ways to share "your" production with others: via various social networks, blogs, websites, etc.
This probably sounds pretty good to you in general concept, but you won't really "get" it until you view an actual Animoto video. In a moment I'll show you one that I created in about 20 minutes start-to-finish, but first I'll give you the back story. On a sunny early October Saturday, I was on my way into NYC to attend the Vimeo Film Festival (which deserves an article of its own). Traveling on the Long Island Railroad early that morning, I happened to notice that quite a few of my fellow riders looked like extras from a sci-fi movie. Some were in superhero or anime costumes. Others had crazy hair and makeup. Something was going on. Turns out Comic Con was in town. Over a three day period, 96,000 people converged at the Javits Center. Since I had my DSLR camera with me, I decided a course correction was in order. This was a photo op not to be missed, so I spent an hour at Javits snapping away. Since my Canon 7D also shoots nice video, I grabbed some clips as well. There was tremendous buzz and energy and "theater" at Comic Con; however, a bunch of static photos and a jumble of clips couldn't possibly transmit all that to you. Animoto to the rescue! 20 minutes after uploading my images, I had this:
Click to Play:
Pretty cool, right? I'm astonished this could be created without any human intervention whatsoever. I have a over dozen years of high-end video editing experience and it would have taken me many hours to create something approaching the production value of this end product.
I got curious about how Animoto came to be. It started in 2005 when Stevie Clifton, who was working as lead animator at a national TV broadcast network, mentioned to his friend Brad Jefferson how time-consuming it was for him to take raw photos and video clips and produce professional graphics for his TV stations. Then a year later, Clifton and Jefferson and two other partners quit their jobs and founded the company. All were under 30. They didn't have a business plan. Instead, they put all their energy into creating a new genre of software, dubbed "Cinematic Artificial Intelligence." Their hard work has paid off. In June of 09, the company raised $4.4 million in funding from Amazon, VC firms, and other investors. Well over one million people are now using Animoto for a huge variety of purposes: education, product launches, real-estate walkthroughs, artist portfolios, short-form documentaries, and cat videos... to name just a few.
Here's how I made the Comic Con video, step-by-step:
Step One: Upload and Arrange Media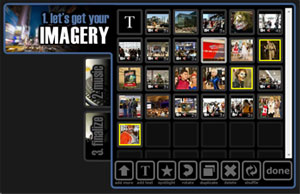 After importing your photos and videos, they'll appear on this story board. You can drag the thumbnails around to put things in a preferred sequence. The key idea here is to tell a story. That story should have some sort of a beginning and an ending. You can add some text that'll overlay and help with the storytelling. You can also "spotlight" certain stills so they'll get a bit of extra emphasis during the production. You can see the three I've chosen above because they're surrounded by a yellow frame.
Step Two: Choose Your Music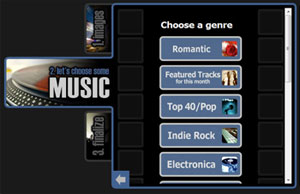 There's a big library of royalty-free (legal) music available for you to choose from, organized into appropriate categories. Or you can do as I did and elect to upload your own. I happen to own a large collection of royalty-free music tracks so that was a good alternative for me.
Step Three: Make Your Video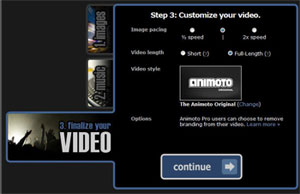 Now you can just press the big "one click" continue button and Animoto will go to work. It doesn't get any easier that that! However, you can also choose among some options first. One controls the pacing of your images (normal, fast, or slow), whether you're making a short/free or full length video, and the template to be used for your production. I think the default template does a really great job but you've got other choices for special projects, such as video greeting cards.
One more interesting thing. No two Animoto videos ever come out the same. Even if you make no changes and resubmit your project for processing, it'll come back different. That's one of the aspects of this service that's so appealing. You'll always be surprised by what "you" create!
How to Make Your Own
The basic Animoto service is free and will allow you to create a 30-second reel. Longer videos cost $3 each. Or you can subscribe to an "All Access" or "Pro" account on a monthly or yearly basis for unlimited use, as I have. If you use this link to register, you'll save $5 off the annual All Access account fee: Animoto Discount (and I will benefit too.) By the way, if you're an educator or student, there is a special no-cost account option.
As you can tell, I'm a big fan of Animoto. People love getting these little productions and I hope you'll give it a try. Think about doing something creative with your Halloween photos this year. Now that I've shared Animoto with you, it'll be easy to give them the full-on Hollywood treatment!
Mad Men Finale
Here's one more Animoto example. Another terrifically fun October event was a private screening of AMC's Mad Men Season Four Finale at the 21 Club in New York City. Folks were dressed in 60's attire and I wouldn't have felt right carrying my big SLR camera so I made do with some cell phone snaps and video clips. 20 minutes after uploading them to Animoto, I had this:
Click to Play:
You may recognize Jon Hamm (Don Draper), Christina Hendricks (Joan), Elisabeth Moss (Peggy), Cara Buono (Dr. Faye), and Writer/Director/Genius Matthew Weiner. We don't watch much TV but wife Deborah and I love this show. If you haven't been following it, I highly recommend starting with Season 1 on DVD. The early 60's timeframe, storylines, and character development make it a very compelling series. By the way, the music for this is a mash up of the Mad Men theme and Nat King Cole's Nature Boy, performed by Alison Williams (recent Yale grad, YouTube star, and daughter of NBC Nightly News Anchor Brian Williams): Mad Men Theme Song with a Twist <-- worth clicking. Unlike my Animoto, this video was a "one shot" done with a Steadicam.