The Quantified Self
What are your personal metrics? The first three you'll certainly know: your height, your weight, and your age. But what about all the rest? How many steps did you take today? How far did you walk? How many stairs did you climb? How many hours and minutes did you actually sleep last night? How many calories did you burn and what's your body fat percentage right now?
You're most likely asking yourself two things at this moment: (1) why is it so important to know all that stuff, and (2), if they're actually important to know, how do you determine your personal numbers? Good questions. Here are the answers.
Understanding your personal metrics can lead to a substantial improvement in your health and quality of life. As our health care system becomes increasingly institutionalized (and some say, degraded), it's becoming increasingly necessary to take charge of our own well-being by modifying behavior and lifestyle. You can only make positive change by knowing your starting point, and to do that properly, you have to quantify things.
Indeed, there's a whole movement underway that's known as "The Quantified Self" which promotes the idea that one ought to measure and record a great number of personal numbers. The term originated in 2007 when Wired Magazine editors Gary Wolf and Kevin Kelly wrote about "self-knowledge through self-tracking" even before affordable personal measurement/tracking devices became available.
But a plethora of these devices are now on the market and provide the answer to question #2. For comparatively very little money, you can purchase a tiny device that will provide remarkable insight into your lifestyle/health habits.
I'll focus on the device I personally use, the FitBit One, and later provide some information on other devices now on the market or expected shortly.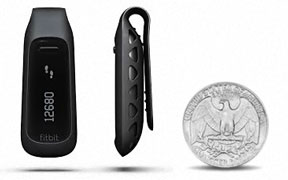 (click to enlarge photos & graphics)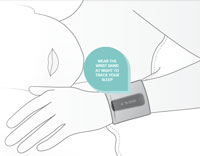 How To Wear it
During the day, you clip the FitBit to your belt or your shirt or pants pocket, with the device inside. This makes it quite inconspicuous when compared to wristband trackers like the Jawbone Up and Nike+ FuelBand. Ladies, you can alternately clip it to your bra if you wish. At night, you remove the tracker and insert it into the mesh pocket of a comfortable sleep band.
The FitBit One is sweat proof, rainproof, and splash proof. However, it is not rated for operation under one meter of water (no tracker is intended for use while swimming). One disadvantage of a clip-style device compared to a wristband one is that it's more likely to go for a trip through your washing machine if you forget to unclip it before doing laundry (AKA: the spin cycle of death). Anecdotal reports indicate survivability but I wouldn't count on it.
What Does the FitBit One Measure?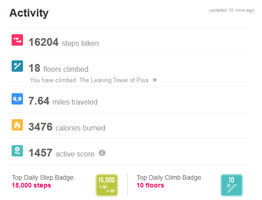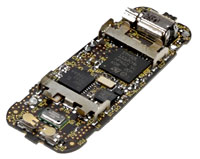 Activity trackers are far more than (as some describe them) "glorified pedometers." Like a simple pedometer, it'll tell you how far you've walked, but much more besides. At its heart, the FitBit contains a MEMS three-axis accelerometer chip. As you move through your day, an immense volume of motion data is collected and stored (augmented by an on-board altimeter that measures stair climbing altitude changes). The real magic happens in software, when all that "noisy" accelerometer data is converted into highly accurate and usable metrics that track the number of steps you've taken -- even back and forth in the office or your kitchen, the distance you've traveled, and how vigorously you've exercised. Knowing this, it can calculate the number of calories you've burned and can assign you an overall "active score."
Many health experts now advise that you should aim for 10,000 steps a day. However, most people take less than half that number. And that points to the main value of having an activity tracker. Knowing your number satisfies curiosity, but unless it leads to a positive change in behavior, it's just an intellectual exercise. However, I can tell you from personal experience, having one of these devices "watching" you is highly motivational. I now purposely park my car at the far end of the lot, just to rack up some extra points, take the steps instead of the elevator, and do lots of little extra things that get me up and moving each day.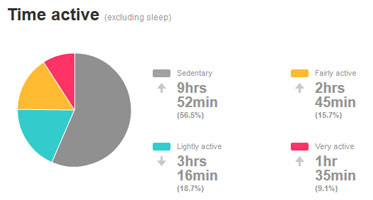 All your info can be viewed in graphical formats on a password-protected web site or on your smartphone screen. In addition to daily, weekly, and monthly summaries, you can see hour-by-hour breakdowns of activity through your day.

Wireless Sync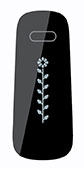 Unlike most competing devices, the FitBit can communicate wirelessly (and continuously) with your iPhone or Galaxy via Bluetooth 4.0 or with your desktop or laptop computer via a tiny USB dongle. This seamless communication is important for detailed analysis, but the One also has a built-in display that shows step count, stairs climbed, miles walked, and calories burned, as well as time-of-day. Finally, it displays an "activity flower" that grows as you up your active score through the day.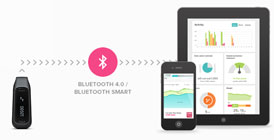 Connection to Other Apps
Perhaps more so than any other activity tracker, the FitBit connects and interacts with many other devices and services including LoseIt! (last month's article subject), MyFitnessPal, MapMyRun, Run Keeper, EndoMondo, and Spark People. You also have the ability to link in your social media and tap into the dedicated and vibrant FitBit user community.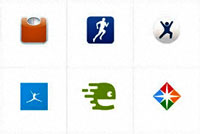 Sleep Tracking
The biggest surprise I found after getting a FitBit was the value of analyzing my sleep patterns. While not as sophisticated as dedicated sleep trackers (which actually measure EEG waves but require wearing a headband), the FitBit can shift into a highly sensitive mode when you press and briefly hold its single button. This sleep-tracking mode is quite accurate at detecting when you're soundly asleep and when you're awakened at night (momentarily or longer). This knowledge can help you modify your environment and sleep habits to maximize your sleep efficiency and duration.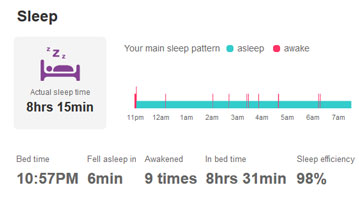 Comparison Chart
Here's a summary of the leading devices currently on the market or expected for release shortly. My personal opinion is that they may be made obsolete in the not-too-distant future when their functions are provided by a new generation of super-smart wristwatches like the Pebble or the expected Apple and Google watches. Also, I'm not including any of the software-only smartphone apps because they aren't practical 24/7 activity trackers and they drain the phone's battery quickly. For the moment, a dedicated tracking device is the best choice.
Device

Link / List Price
Pros
Cons

$149

Has alphanumeric display plus dot readout graph

Great looking smartphone graphs

Sharp appearance

Three color versions including "ice"

Can replace your wristwatch

iOS only (No Android app)

No sleep tracking

Limited data collected

No walking distance measurement

Potentially least accurate among leading devices (Jawbone, Body Fit, and FitBit)

$130

Sharp Yves Behar design in three sizes

Small profile for a wristband - Fits well under shirt sleeve

Has sleep tracking

Has vibration mode for (inactivity) reminders and (optimized) wake up

Can measure walking/running speed

Arguably the best software/smartphone app

No display whatsoever

Smartphone required for data sync (via 3.5 mm plug into headphone jack - no wireless sync)

No web interface/app or computer connectivity

$149

Direct contact sensors measure skin temperature, heat flux, and galvanic skin response (for better calorie burning estimation)

Measures heart rate

Has sleep tracking

As seen on The Biggest Loser TV show

No display

Bulky and unsightly by comparison

Armband form factor better suited to exercising than 24/7 wearage

Requires paid subscription ($59/year after 3 months free)

Note: a far more advanced "Core 2" model is expected August 2013

$100

Has altimeter for accurate stair climbing estimation

Wireless sync to (select) smartphones

OLED alphanumeric display

Sleep tracking

Can wear it discretely

$50/year for premium subscription (note: premium not really required in my opinion)

Vibration alarm not as sophisticated as Jawbone Up (i.e. it's just a silent alarm clock)

Does not track Midi-chlorian levels

$60

Most affordable tracker

User-replaceable battery lasts 6 months

Choice of 5 colors

No sleep tracking

No stair-climbing measurement

No vibration

Bulkier than FitBit One

$100

Same functionality as FitBit One but in wristband form factor

Choice of 4 wristband colors and 2 sizes (tracker insert can be removed and switched between bands)

Has LED lights only

No alphanumeric display

Spring 2013 availability

Withings Smart Activity Tracker

Price TBD

Similar form factor as FitBit One but adds heart rate tracking

OLED Front display is touch-sensitive

Two-week battery life

Can send nudges to your smartphone if it determines you're being sedentary

No stair-climbing measurement?

No vibration?

Spring 2013 availability

$199

Measures optical blood flow, heart rate, body temperature, ambient temperature, galvanic skin response (sweat)

Tracks sleep / Tracks stress

Can be used as a wristwatch (no alarm or stopwatch functions however)

Case in 3 color options (white, black, and red)

No mobile apps (yet)

No stair-climbing measurement

No distance measurement

Only Bluetooth 2.1 (not as energy-efficient as BT 4)

Only 3-4 days battery life

$99

Actually records EEG data

Measures REM and deep sleep phases

More accurate than motion-based trackers

SmartWake alarm wakes you up at optimal point (near your target time)

Requires wearing headband that can slip off during sleep

Battery life is very limited (1 day)

Not a general-purpose (daytime) activity tracker
Why Bother with All This?

It's ultimately up to you to manage the critical things in your life that are under your control. Health is a four legged-stool. The legs are good nutrition, exercise, stress control, and adequate sleep. If any of those four get cut short, your well-being will be put in jeopardy. Change and empowerment begin when you build awareness of the vital aspects of your life. If a little gadget will help in that quest for better health, it's well worth having.