The Trusted Traveler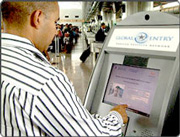 Whether you fly frequently or just once in a while, no one likes to wait on long lines at the airport. And if you travel internationally, the very worst line can be the one returning through customs. After a long flight — when all you're thinking about is getting home and sleeping in your own bed again — that 30-45+ minute wait to clear customs can seem like an eternity. However, if you qualify, there's a relatively new program called Global Entry that'll enable you to bypass the line to a customs agent and use an automated kiosk instead. Even if you're not a global traveler, there's another great reason to apply for this program: it automatically gets you into TSA PreCheck. When flying on Delta, American, or Alaska airlines in certain airports, you'll be able to get through security with much less hassle.
Here are the details for each program:
Global Entry http://www.globalentry.gov
Created and administered by U.S. Customs and Border Protection (CBP), Global Entry allows pre-approved travelers to expedite their entry into the U.S. The program has a strict membership standard (background check, fingerprinting, in-person interview, etc.). However, once approved, you can use automated kiosks in most major U.S. airports, rather than having to go through the traditional arrival process. Bypassing long lines is the major benefit, but there are other perqs, including not having to fill out the (paper) CBP 6059B customs declaration form.
But you won't qualify if you've ever been convicted of a criminal offense in any country or been found in violation of any customs, immigration or agricultural laws. And, of course, all bets are off if you provide false or incomplete information on your application. You need to have a current, valid passport PLUS one other form of identification such as a driver's license or ID card. And if you are a permanent resident of the U.S. you'll need to provide your permanent resident card.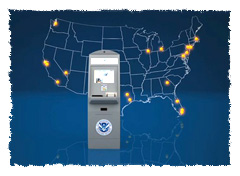 Membership in the Global Entry program is open to legal United States residents and citizens of Mexico, Canada and the Netherlands.

To apply, you fill out an online questionnaire which takes about 15 minutes to complete and includes a consent to a background check. You'll answer questions about addresses, employment and travel history/plans. After paying the $100 fee and hitting submit, CBP will do a criminal background check. The next step is an in-person meeting with an agent at a major airport or at the Customs House in Manhattan (the only off-airport site for interviews). Your fingerprints will be scanned and you'll be photographed. The customs agent will ask some confirming questions but the main interaction will consist of the agent showing you how the kiosk system works.
GLOBAL ENTRY AIRPORTS
Boston – Logan International Airport (BOS) • Chicago O'Hare International Airport (ORD) • Dallas/Ft. Worth International Airport (DFW) • Detroit Metro Wayne County Airport (DTW) • Ft. Lauderdale/Hollywood International Airport (FLL) • George Bush Intercontinental Airport, Houston (IAH) • Hartsfield – Jackson Atlanta International Airport (ATL) • Honolulu International Airport (HNL) • John F. Kennedy International Airport, New York (JFK) • McCarran International Airport, Las Vegas (LAS) • Los Angeles International Airport (LAX) • Miami International Airport (MIA) • Newark Liberty International Airport (EWR) • Orlando International Airport (MCO) • Orlando – Sanford International Airport (SFB) • Philadelphia International Airport (PHL) • San Francisco International Airport (SFO) • San Juan Luis Muñoz Marín International Airport (SJU) • Seattle – Tacoma International Airport Sea-Tac (SEA) • Washington-Dulles International Airport (IAD)
20 airports are currently participating and by this summer, Global Entry will be operating at 26 domestic airports and 5 in Canada
TSA PreCheck www.tsa.gov
OK, we all love to hate the Transportation Security Administration. However, giving credit where it's due, TSA is trying (albeit in a small way), to make the screening process easier for certain folks who participate in this program. TSA PreCheck is described as an "Expedited screening initiative" that is expanding to airports across the country. The program implements the agency's "Intelligence-driven, risk-based approach to security," and enhances aviation security by placing more focus on pre-screening individuals.
If you qualify for PreCheck, you usually won't have to remove your shoes (yea!), take liquids out of your carry-on, remove your laptop, or take off your lightweight jacket or belt before passing through the screening checkpoint. There's no guarantee of this because TSA reserves the right to "incorporate random and unpredictable security measures throughout the airport," and no one can be guaranteed expedited screening.

You can participate in TSA PreCheck if you're a U.S. citizen and a member of an existing Customs and Border Protection Trusted Traveler program such as the aforementioned Global Entry, as well as NEXUS and SENTRI. Certain "high-mileage" frequent flyers on Delta and American airlines are also invited to participate. The program will be expanded to other airlines but these two were the first to link their passenger information records to TSA's flight database... which enables the agency to determine frequent flyers' risk profiles.
You'll enter your membership number (PASS ID) in the "Known Traveler Number" field when booking reservations or enter it into your frequent flyer profile. If it's determined that you're eligible for expedited screening, information is embedded in the barcode of your boarding pass. TSA will read that barcode at designated checkpoints and you may then be referred to a lane where you'll have expedited screening.
TSA PreCheck AIRPORTS
Hartsfield Jackson Atlanta International Airport (ATL) • Ronald Reagan Washington National Airport (DCA) • Dallas/Fort Worth International Airport (DFW) • Detroit Metropolitan Wayne County Airport (DTW) • John F. Kennedy International Airport (JFK) • Las Vegas' McCarran International Airport (LAS) • Los Angeles International Airport (LAX) • LaGuardia Airport (LGA) • Orlando International Airport (MCO) • Miami International Airport (MIA) • Minneapolis-St. Paul International Airport (MSP) • Chicago O'Hare International Airport (ORD) • Portland International Airport (PDX) • Seattle-Tacoma International Airport (SEA) • Salt Lake City International Airport (SLC)
Currently, PreCheck operates at 15 airports. However, expedited screening is not provided at all terminals, so check the web link above for a detailed list. By the end of the year, PreCheck is scheduled to be in 35 airports.
Any Objections?
Some people object to the very existence of these types of programs, feeling that nobody should get "special" treatment. Others are totally uncomfortable with the need to share "private" information with a government agency in order be granted access.
On the first point, I refer you to this Salon article: "How the rich took over airport security."

Some choice quotes:
"Along with getting a photo at the Department of Motor Vehicles and sitting in a jury pool, standing in line at airport security with a mob of other people, miserable though it is, remains one of the few examples of civic equality in our increasingly oligarchic republic."
"At the moment, the model of America's pathetic, predatory, deteriorating airline industry seems to be eking out nickels and dimes by playing crudely on the snobbery of their customers, with the use of two separate lines at the terminal gates..."
"These 'trusted traveler' systems will not make America safer. Their unacknowledged purpose is to create yet another area of American society that is privatized and segregated by class, to the benefit of the mostly white economic overclass."
Harsh stuff...
Regarding the second point: not wanting to undergo the pre-screening process, that's entirely up to you. It's not pleasant to be fingerprinted and questioned but I can tell you that the experience was not nearly as bad as I anticipated. If you believe that you're giving up too much private information, then nobody's forcing you to participate. However, privacy is pretty much dead anyway. Massive databases containing your personal info ALREADY exist and (IMO) the incremental data points that might get added to them through the Global Entry / PreCheck programs are not going to make the slightest difference in the "privacy" you now enjoy.
However, I guarantee you'll definitely appreciate the first time you walk through the checkpoint scanner with your shoes on.